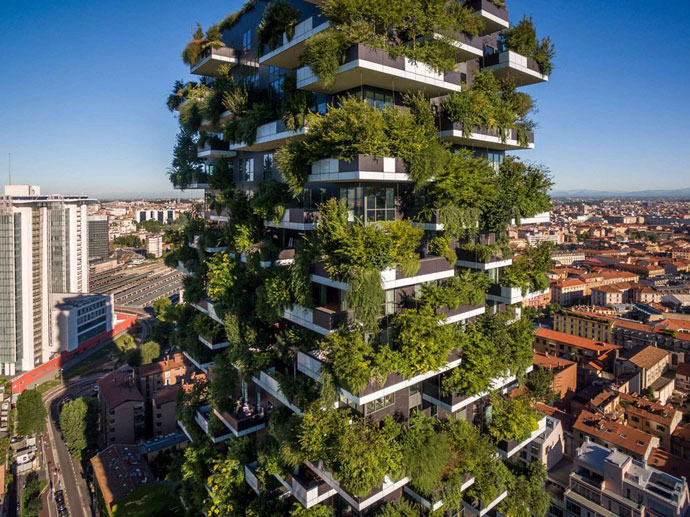 By 2050, the UN expects the global urban population to be 6.3 billion – the same size as the world's entire population in 2004. Quite apart from the demand on natural resources, significant amounts of new housing will be required to accommodate this explosive level of growth.
Architects are already delivering a new generation of high-rise building able to generate their own micro-climate, produce humidity, absorb CO2 and dust particles and produce their own oxygen; these so-called vertical forests are beautiful to look at too.
Following successful full-scale prototypes in Europe, Asia is soon to have its own vertical forest.
Located in Nanjing Pukou District, the Nanjing Green Towers, will boast 1,100 trees from 23 local species and 2,500 cascading plants and shrubs covering over  6,000 square metres. This amount of vegetation absorbs around 25 tons of CO2 each year produce about 60 kg of oxygen every day.
The towers will house a museum, school, food market, restaurants, conference hall and exhibition spaces.
Stefano Boeri Architects present their vertical forest buildings as means of controlling urban sprawl – each tower is equivalent to an area of family houses and buildings of up to 50 square metres.
The plants used in vertical forest buildings are carefully chosen by botanists and pre-cultivated over a two-year period so that they can be acclimatised to the conditions they will face in their new home.
Ethical travel insurance – Why choose us?
ETA Travel Insurance offers generous cover for medical expenses, baggage, lost passports, personal accident and delayed or cancelled journeys with an excess of only £50
ETA Travel Insurance is an Ethical Consumer Best Buy. We are 100% carbon neutral, and every policy sold helps fund campaigning for sustainable transport by our charity, the ETA Trust
Our emergency helpline is based in Britain so you can rest assured that our English-speaking support team is on standby to help you 24/7
Business travel covered as standard