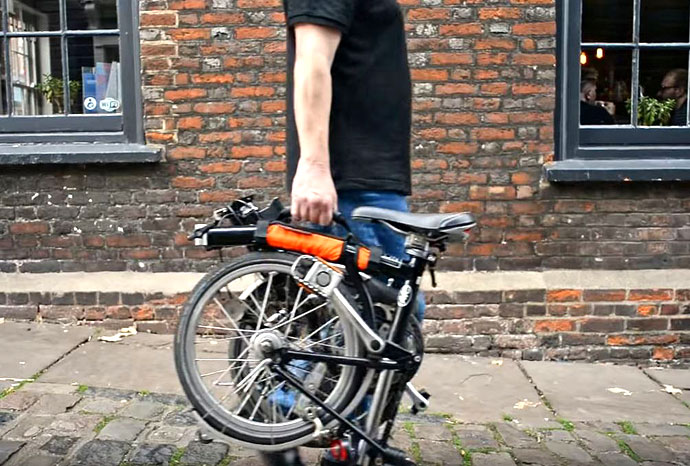 The question of why Brompton sells leather wallets, iPad cases and scarves as accessories for its folding bicycles, but not a carrying handle remains one the great unanswered mysteries. Luckily, a number of after-market handles are on sale to fill the void.
The Off yer bike handle has been designed with as much attention to detail as the bike to which it fits. The handle features two velcro straps prevent movement along the frame and a leather backing eliminates lateral movement around the main frame tube.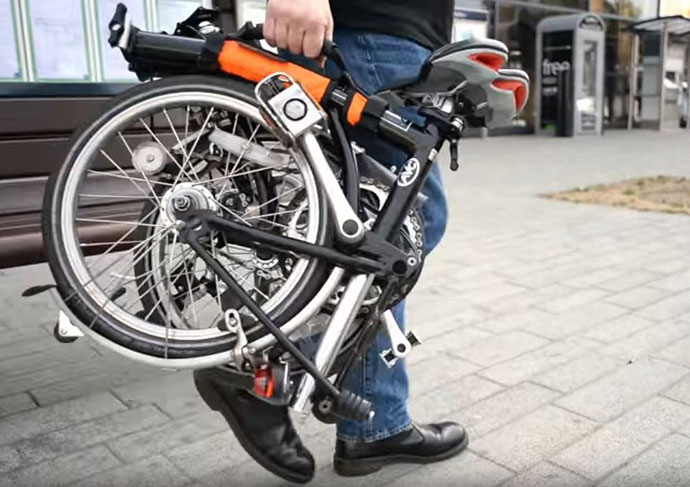 The rubber handle has been designed to a specific length and height that allows users to carry the bike from either side when folded or in 'ride ready mode'.
Win a carry handle for your Brompton
We have one Off Yer Bike carry handle worth £42 to give away. Simply leave us a comment at the bottom of this page and we will pick a winner next week.
Andrew Ritchie built the first Brompton bike in 1979 and has been refining the design ever since. The company is often cited as an exemplar of British manufacturing. The sells across the world and such is its success that the company struggles to keep up with orders.
The Brompton is a design classic – a bicycle that is practical, easy to use and instantly recognisable. Brompton is not only a success in British manufacturing but has revolutionised the way bicycles can be used in this country; its clever folding mechanism allows thousands of commuters each day to bypass the onerous regulations that prevent many cyclists from carrying their full-size bikes on trains.
Cycle insurance for your folding bicycle
On the face of it, one cycle insurance policy is much like another, but the devil is the detail. How much excess you will be charged is just one of the things that varies wildly between providers. Another is so called 'new-for-old' replacement – many insurers use this term, but if your bicycle is more than a few years old, they devalue it severely. This means you are left out of pocket when you come to replace it.
Furthermore, every cycle insurance policy you buy from us helps support the work of the ETA Trust, our charity campaigning for a cleaner, safer transport future.
ETA cycle insurance has a low standard excess of 5% (minimum £25) and offers a new-for-old for life – however old the bike, if it's stolen you get enough to buy a new model.
For over 26 years we have been providing straightforward, affordable bicycle insurance. Whether you use your bike to commute, shop, race or amble in the park, ETA Cycle Insurance has you covered. We never devalue bikes no matter their age, allow you to buy your replacement bike wherever you like, replace stolen quick release components and handle claims in-house.
The Good Shopping Guide voted us Britain's most ethical insurance company 2016.