Our cover is provided on the basis that you secure your bicycle with an adequate Sold Secure rated lock when leaving it in public. We aim to make the process of choosing the right one as easy and stress-free as possible.

Approved cycle locks
There are a wide range of secure and affordable bicycle locks available. Many locks come with additional security cables, which are intended for securing wheels and accessories.
Please note: security cables must never be relied upon to secure bikes, or used as an extension to your bike's lock. If you fail to use a Sold Secure rated lock to secure your bike through the frame to an immovable object your cover could be invalid. Find out more about how to lock your bike
In order to make a successful claim for cycle theft, you must use a Sold Secure lock with a rating of either Bronze, Silver or Gold, depending on the value of the bicycle.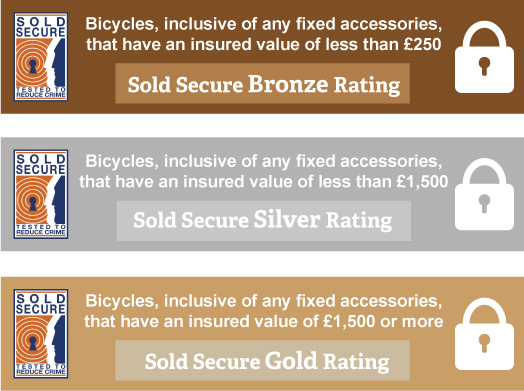 Sold Secure tests and rates cycle locks sold in Britain. Each lock model is rated as Bronze, Silver or Gold. The three ratings represent how long it would take for a thief to break the lock. The higher the grading, the greater the level of security provided by the product.
To check the rating of your lock, visit the Sold Secure website or call 01327 264 687
Locks we like
There are a wide range of bicycle locks available, but not all have a Sold Secure rating. To make it easy for you, we have put together a list of locks that we can happily recommend as being secure, practical and affordable.
Proving ownership of a suitable bike lock
It is a condition of cover that you adequately secure your bicycle with an approved lock when you leave it in a public place. We do not require you to lock your bicycle when it is being kept at home, so long as it is not visible from the exterior of your property and that it is not accessible by anyone other than members of your household.
However, if you need to make a claim for theft in a circumstance where your bicycle had to be locked correctly in order to qualify for cover (i.e. left unattended in a public place), you must prove ownership of a suitable lock.
We will accept any of the following:
Original purchase receipt
Ebay or PayPal documentation confirming sale (must mention make and model)
A valid web receipt clearly showing your purchase of a valid bike lock if it was bought online
A bank statement clearly showing the transfer of funds for the purchase of your cycle lock
An independent written valuation of the bicycle lock, provided by an accredited cycle retailer
Clear photographs of the lock in question, both separately from, and locked to, your insured bicycle. If you cannot provide a receipt and are using photographs to support your claim, these must be supplied to us before such a time as you need to make a claim.
Find out more about proof of ownership
Locking your bike
When leaving your bike unattended in a public place, you need to ensure that it has been locked correctly in order for your insurance to remain valid. We've put together a handy guide on how to lock your bike in accordance with our policy requirements.
---
Have other questions about our security requirements? Read our FAQs