The Boomer Beast is an off-road mobility scooter that's as happy popping to the local shops by road as it is crossing a muddy field.
The Beast is capable of 24 mph – a top speed that can be governed for use on the road. All three wheels are driven and shod with knobby tyres making it possible to tackle inclines of up to 35 degrees.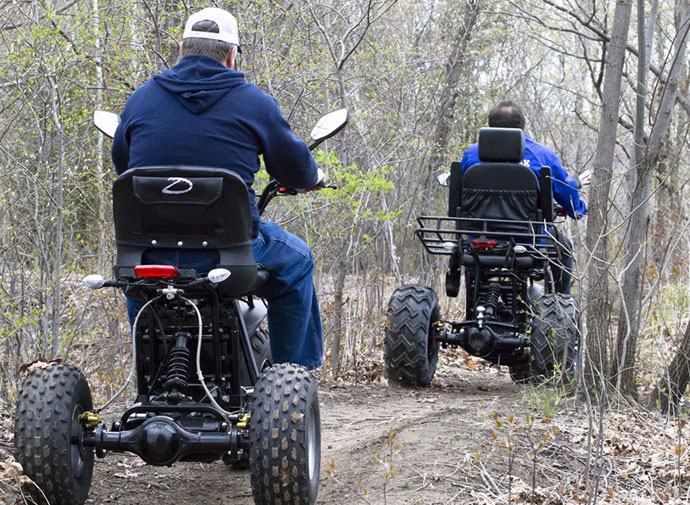 A lithium battery pack gives a range of 15 – 55 miles depending on specification – distances that can be extended using the inboard solar trickle charger.
The Boomer Beast weighs 120 kg and can carry a rider weighing up to 158 kg.
Prices for the Boomer Beast start at around £2,500. More information is available at daymak.com
For shipping enquiries you can email daves@daymak.com
Mobility scooter insurance
ETA mobility scooter insurance offers peace of mind and represents excellent value for money. The policy includes everything you need to keep you moving should your mobility scooter be stolen, vandalised or damaged accidentally. At no extra cost, you also benefit from breakdown cover to take you home if your mobility scooter suffers a flat battery, mechanical fault or puncture.
For added reassurance, every policy includes £5m third party cover to protect you against claims for injury or damage caused while using your mobility scooter or powered chair. And should you be unfortunate enough to crash your scooter, our insurance policy includes personal accident cover up to £20,000. More information
Why choose us?
Over the last 25 years, we have gained a reputation for being efficient, reliable and environmentally friendly; qualities that helped us provide the most ethical insurance, according to the Good Shopping Guide.
Our experienced recovery teams are on call 24 hours a day, ready to help should your mobility scooter break down. More information