With a capacity of 300, the latest bus unveiled by Volvo is world's largest and promises a seat for every passenger.
The Gran Artic 300 is bi-articulated – its three sections measuring a total of 30 metres in length. The vehicles are so long that they require their own dedicated lanes. Dubbed bus rapid transit (BRT), the giant vehicles provide some of the advantages of rail at a fraction of the cost.
Volvo has already delivered more than 4,000 buses to the BRT-systems of Curitiba, Bogotá, Guatemala City, Mexico City, Santiago de Chile and San Salvador – although none quite as the Gran Artic 300. However, it may not hold the title of world's largest bus for very long.
The straddle bus is a radical, and extremely large, vehicle that can pass over traffic jams and frees up road space for cyclists.
Bus lanes provide a valuable refuge for cyclists on urban streets, but in London they have become so clogged with motorised vehicles that bicycles can find themselves in a near-constant state of overtaking, or being overtaken. The answer could lie with a radical new vehicle from China – a bus on rails that straddles the traffic beneath.
World's largest bus
China is now the largest car market on earth and the threat of complete gridlock has prompted designers there to come up with a design of electric bus that straddles existing roads, thereby allowing it to be unaffected by congestion and other vehicles up to two metres in height to pass underneath even when it is stationary.
First revealed in 2010, it is claimed the straddle bus is to undergo trials in Qinhuangdao, a city 300 km east of Beijing. If the straddle bus succeeds in reducing private car ownership it could even help redress the country's decline in cycling.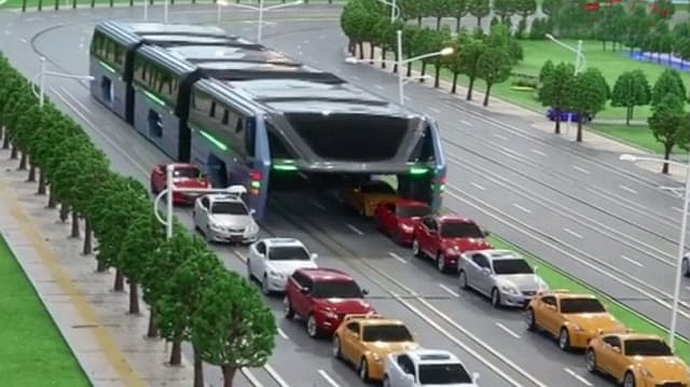 In a bid to improve the environmental performance of their vehicles, London bus companies are introducing hybrid technology and experimenting with fuel cell designs, but the straddle bus eliminates the problems of pollution and congestion associated with diesel-powered vehicles.
The straddle bus would prove troublesome if not impossible to install on London's narrow and winding streets, but the way we travel in future is likely to make the most of highly automated systems. Personal rapid transit technology (PRT) involves networks of automated 'pod cars' that offer on-demand, non-stop transport using small vehicles that run on specially-built tracks. The technology combines the environmental advantages of public transport with the privacy and flexibility of car travel. It has the potential to be highly efficient because it operates only when needed; in theory it could eliminate the need for cars and some mass transit systems altogether.
Heathrow 's own PRT will eventually comprise a fleet of 400 electric, four-seater pods serving outlying hotel airports and car parks. On a grander scale, plans for Masdar City in Abu Dhabi include a ban on all private cars and network of automated electric pod cars. Masdar City plans to rely entirely on renewable energy a zero-carbon policy. The company responsible for developing the Masdar scheme admits that the project will be expensive but claims the service will offer a level of service unreachable by other forms of public transport.
Environmentally friendly cycle insurance
On the face of it, one cycle insurance policy is much like another, but the devil is the detail. How much excess you will be charged is just one of the things that varies wildly between providers. Another is so called 'new-for-old' replacement – many insurers use this term, but if your bicycle is more than a few years old, devalue it severely. This means you are left out of pocket when you come to replace it. Read our insider guide to cycle insurance.
Furthermore, every cycle insurance policy you buy from us helps support the work of the ETA Trust, our charity campaigning for a cleaner, safer transport future.
ETA cycle insurance has a low standard excess of 5% (minimum £25) and offers a new-for-old for life – however old the bike, if it's stolen you get enough to buy a new model.
For over 26 years we have been providing straightforward, affordable bicycle insurance. Whether you use your bike to commute, shop, race or amble in the park, ETA Cycle Insurance has you covered. We never devalue bikes no matter their age, allow you to buy your replacement bike wherever you like, replace stolen quick release components and handle claims in-house.
The Good Shopping Guide voted us Britain's most ethical insurance company 2015.