It's a dog-eat-dog world on the roads today; the automotive arms race that sees motorists choosing ever-larger and aggressive-looking cars has left drivers in China turning to horrifying lengths to gain one-upmanship.
Drivers have flocked to buy reflective ghost face decals for the rear windows of their cars that are visible only when the driver behind uses their full beam.
Many of rear view mirrors fitted to today's cars are fitted with an automatic dimming feature, but the stickers are a low-tech alternative aimed at scaring drivers into dipping their headlights.
Traffic police in Shandong have threatened to issue drivers using the stickers with fines of 100 yuan. In Beijing, police have stated that whilst not illegal, the stickers could render drivers liable for damages if their use causes a crash.
Why do cars look so aggressive?
Making cars look aggressive does not serve any rational purpose. While sports cars have always been styled to have a sense of purpose, most cars on the road have no sporting credentials; they are designed to be as safe and economical as possible and they operate on the same speed-restricted, congested roads.
Consider how the appearance and character of cars has changed over the decades. Compare the Mazda MX-5 with the wide-eyed expression of the Frogeye Sprite.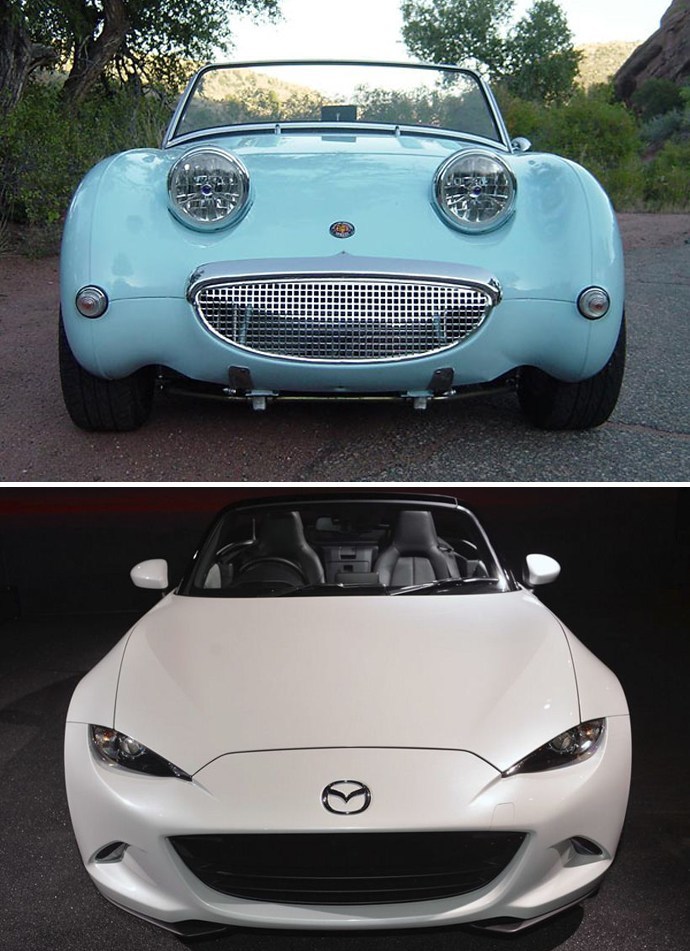 It may be that aggressive-looking cars are more than a reflection of our temperaments as drivers – they may act as a catalyst for angrier roads. It seems like cars need to be more aggressively styled than their predecessor in order to stand out from the crowd. It's an arms race that does nothing to reduce road danger. Why not put an end to ghoulish stickers and make cars look happy? Even a self-avowed petrol-head might admit that driving should be a somewhat happy, enjoyable experience. We'd all be better off if car design reflected that.
ETA breakdown cover
Established over 26 years ago, and with over 5,000 recovery trucks on call 24/7, we have a proven track record of providing efficient, reliable breakdown cover. We have been voted Britain's most ethical insurance company by the Good Shopping Guide.
We handpick only the best local mechanics and garages around Britain to send out if you break down. We believe this way of working is efficient, environmentally friendly and helps supports local communities and economies, too.
On top of this, we offset the carbon emissions of the recovery trucks that go out to assist you, reducing the impact your breakdown has on our environment. Every breakdown policy you buy helps fund the work of our charity, the ETA Trust, which campaigns for a safer, cleaner transport future.